Originally available for vehicles with upper trim level packages only, these navigation control modules allow installers to easily upgrade popular GM cars, trucks, and SUVs with factory-installed 8" LCD screens and IntelliLink, CUE, or MyLink systems. Installed in just minutes for most applications, our SoftTouch OE systems require no invasive deconstruction of the factory radio and LCD screen and connect to wiring already pre-installed on the vehicles listed below.
Part Number 250-7719D
Buick2019 Regal Sportback

*3

2019 Regal TourX

*3

Cadillac2018-2019 ATS Coupe

*3

2018-2019 ATS-V

*3

2019 CTS Sedan (N/A for CTS-V)

*3

2019 CT6

*3

2018-2019 XTS

*3

2019 XTS Professional

*3
Chevrolet2019 Camaro

*3

2019 Colorado

*3

2019 Equinox

*3

2019 Malibu

*3

2019 Silverado

*3
GMC2019 Canyon

*3

2019 Terrain

*3

Vehicle Applicability Notes

*

Must verify on vehicle.

**

If vehicle does not have factory DVD/CD Player then the CD icon will not function. Adding CD/DVD is possible. The factory trim for the CD player must be obtained directly from a dealership.

***

This is a complete radio exchange NOT an HMI module. Vehicles may require trim specific kits. Final Prices can only be quoted after a VIN is supplied and verified by customer service. NOTE: Allow yourself extra installation time for the Radio Exchange units.

*1

2019 Cruze/Malibu in old Body Style with IO6 ONLY.

*2

GM Now only offers Nav with Surround View, adding to a vehicle without Surround View will result in loss of the factory parking lines. No solution at this time. This is ONLY the Equinox.

*3

The vehicle must have an SD Card slot at the USB Hub. If not equipped the Hub must be ordered at an extra cost. (Cost $ 225.00)
Product Features
Designed for use on MyLink, IntelliLink, CUE with 8" screen.
Features
HERE
voice-guided mapping from Nokia.
Driver can speak commands with steering wheel controls.
Thousands of points of interest (POI) automatically included.
Includes road and highway maps for USA, Canada, and Mexico.
GPS signal provided through included magnetic base antenna.
Installs in just minutes on most vehicles.
Plug-and-play using factory wire harness already on the vehicle.
Requires no dismantling of factory LCD components.
Annual map updates available from
navigation.com
.
Product Installation (2015 Chevrolet Silverado for Reference)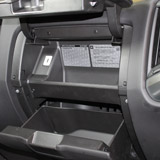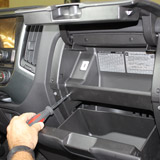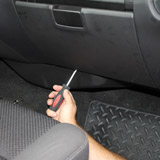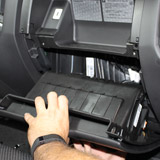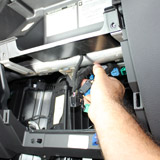 Step 1: Raise the upper and lower glovebox doors to gain access to the glovebox mounting screws
Step 2: Remove the two glovebox mounting screws located across the upper glovebox trim panel
Step 3: Remove the two glovebox mounting screws located across the lower glovebox trim panel
Step 4: Gently pry the lower glovebox away from the dashboard gaining access to the area behind
Step 5: Disconnect the wiring attached to the factory infotainment control module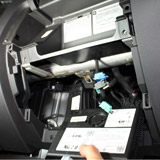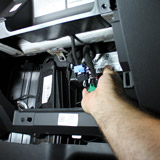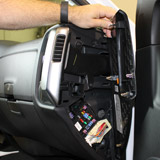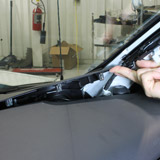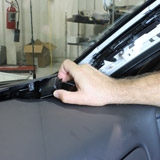 Step 6: Gently remove the factory infotainment module from its dashboard mount by pulling forward
Step 7: Slide the Rostra SoftTouch OE infotainment control module into the factory dashboard mount
Step 8: Gently pry the dashboard side panel away gaining access to route the GPS antenna harness
Step 9: Lift the factory speaker grill to gain access to the factory GPS antenna mounting location
Step 10: Place the GPS antenna into the factory location, connect it to the navigation module and close the grill